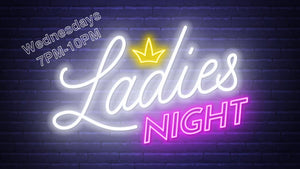 Ladies Night!
Industry Appreciation Night! Every Monday from 3PM-12AM!
New Seasonal Hours!!
Register Now For prerelease weekend events!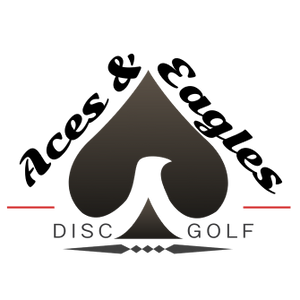 Welcome to Aces and Eagles!

We're currently OPEN 7 Days a Week in Washington, MO!

You've found the online home of Aces and Eagles' Disc Golf, Darts and our very own THE OFFICE "Barcade" featuring a full service Gaming Center containing food, drink and fun all in one place.

We're currently updating our site and adding new products to our inventory. Please be patient as we combine all our offering into one place. Please check back often. We hope to have everything updated and ready to go in a week or two. Thank you for the patience as we continue to grow!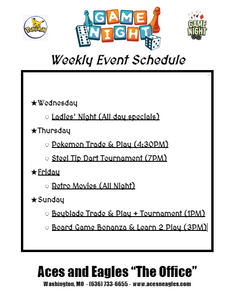 Check Out What's Happening
Every Monday Night from 3PM-12AM is Industry Appreciation Night. Food & Drink Specials all night long for those who work in the Bar & Restaurant Industry! (18+ Monday Nights Only)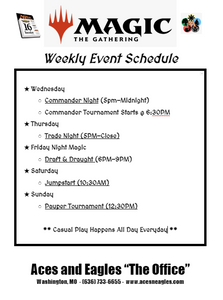 Get Ready to Play!
Stocking a full line of Disc Golf and Dart Supplies, we proudly serve all of Washington, Sullivan, St. Clair, Union, Eureka & More.  Bags, carts, discs, leagues, darts, flights, shafts, sleeves, boards, cases, apparel and more; we carry it all and also offer both buy back and trade in services for new and used items. Looking for something specific you didn't see in the shop? Want a different color or weight? Let us know.  Drop shipping is available and we offer special ordering as well for early access to new releases. Call for details!